How it works!
First of all we arrange a time and date that suits you to visit and photograph your business. Once complete we process all of the imagery and upload it to Google's servers. Next we create the navigation for your Street View virtual tour, before finally publishing it to Google Maps.  Most importantly we email you the links and embed code you need to access your Google Street View virtual tour.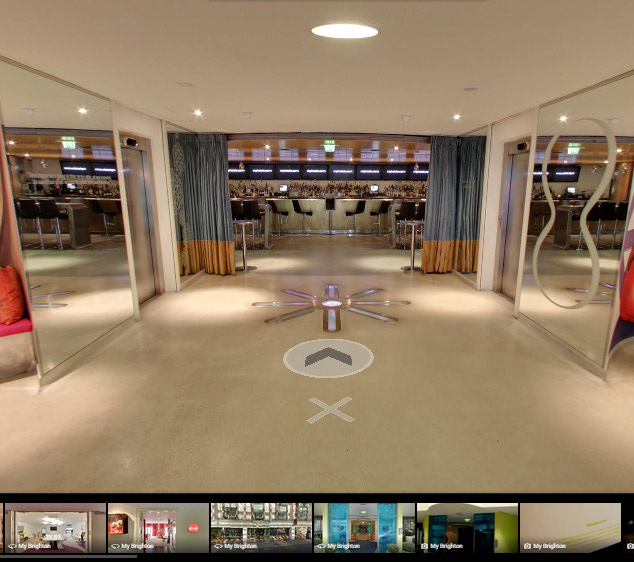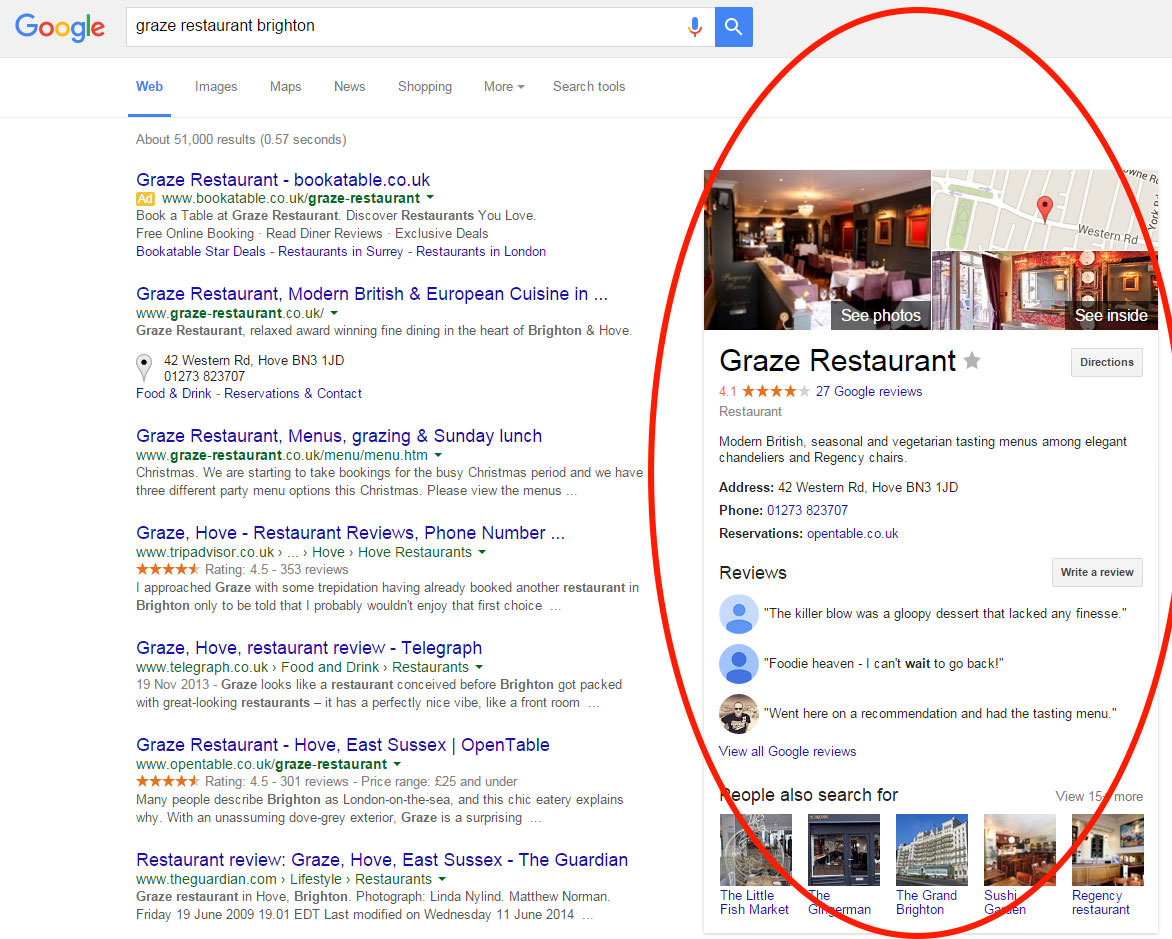 Stand Out in Google Search Results
Google Street View Trusted business photos also allow users to find your business via image search. subsequently they also appear in the main Google Search – Knowledge Graph, or local info panel. Once complete your Google Street View virtual tour will help your business stand out from the competition.
If you can 'See Inside' business A but not business B - Which are you more likely to visit? Most importantly which are you more likely to buy from?
Get Found on Maps
A Google Street View virtual tour gets you on the map whilst also allowing customers to explore your business. As a result if customers can 'See Inside' your business not your competitors, which do you think they are more likely to visit? Likewise which would you be more likely to visit?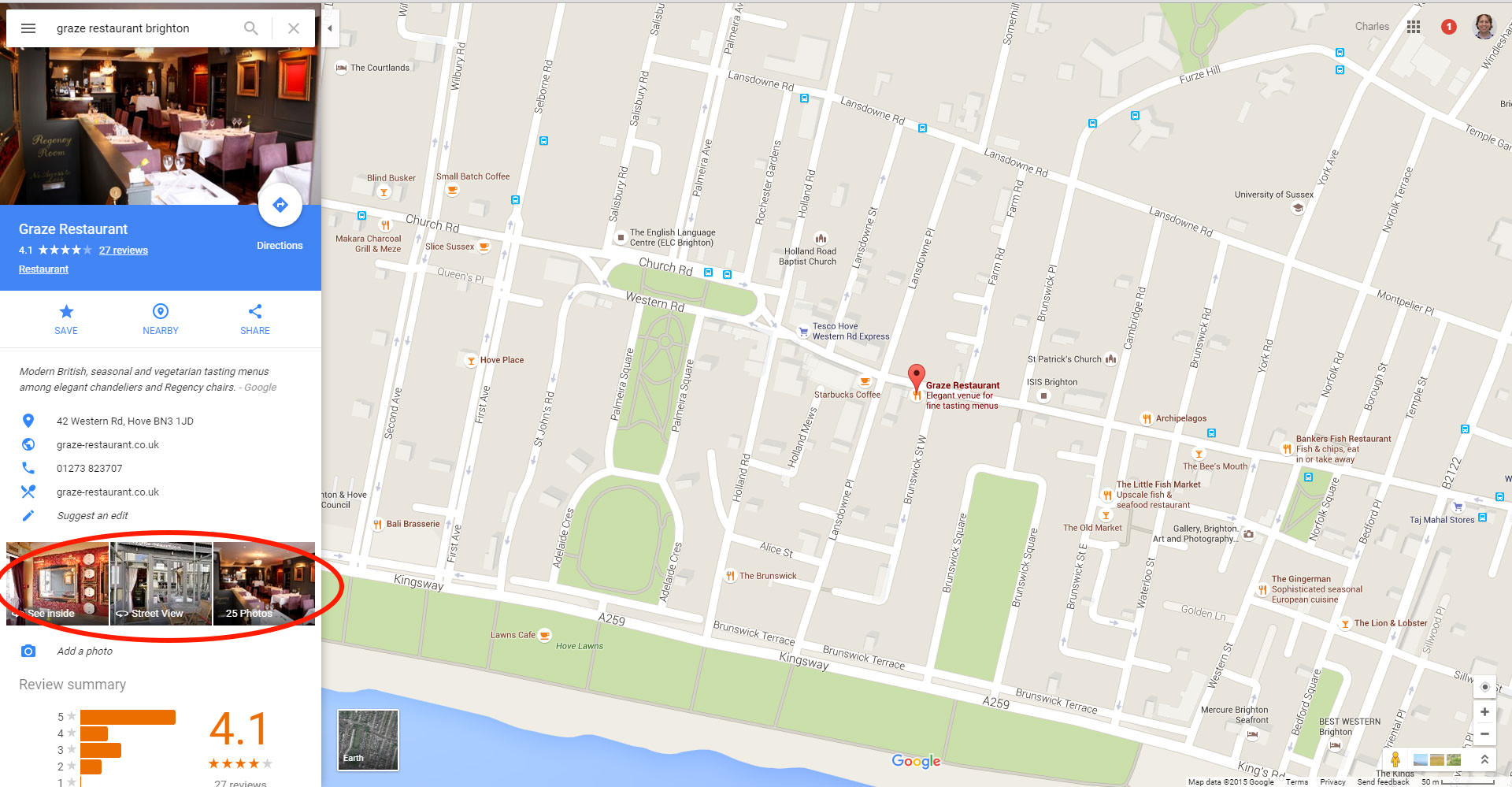 Getting Interactive
Once your Street View virtual tour has been published to Google Maps we can help you get the most out of it by making it interactive. For example by adding info points, videos, logos, and menu systems into your virtual tour.
Make your virtual tour easy to share. Consequently you will get more visitors!
Add background sounds or music
Google Analytics Integration
Custom styling to fit your brand
Virtual Tours Double Interest in Business Listings!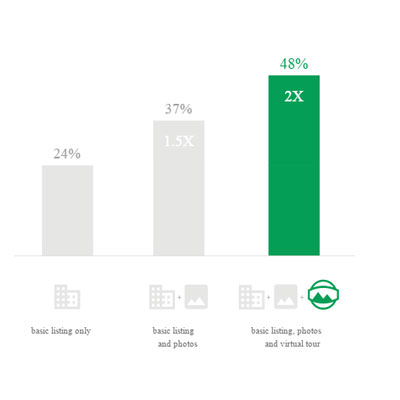 Two Thirds Of Users Want More Virtual Tours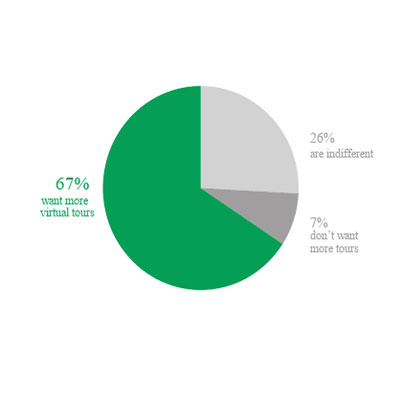 Quantitative market research
Quantitative market research conducted on Google's behalf in July 2015 by an independent market research firm found that those users viewing a listing which had a virtual tour were twice as likely to book or make a reservation with that business. In addition 18-34 year olds were found to be 130% more likely to book based on a business having a virtual tour.
67% of surveyed participants wanted more virtual tours!
In the same survey 67% wanted more business listings to have virtual tours with 26% being indifferent. Most importantly just 7% of participants stated they thought virtual tours weren't necessary.
Quantitative Research
In July 2015 Google published the results of independent Quantitative Research to understand the impact of virtual tours. Consequently the research focused on increasing consumer interest in local businesses with virtual tours including Google Street View Tours. Specifically focusing on booking a reservation at a hotel or restaurant.
Research Parameters
Consumers searching online for a restaurant or hotel within the previous 30 days (using any device)  completed a survey.
1201 respondents answers, collected between July 21st and August 2nd, 2015, made up the dataset.
The research required different versions of local business listings. One for a hotel, the other for a restaurant, which included basic info, photos and/or a virtual tour. In addition each version used the same media content.
Respondents viewed one of the different versions for each business (in a randomized order). Most importantly each respondent viewed:
1 hotel listing + 1 restaurant listing; and
1 listing with a virtual tour + 1 listing without a virtual tour.
Note: Field tests standardization, involved consistent even randomisation of alternate listings throughout field tests.
Rating Listings
After viewing each listing, respondents rated their interest in booking a reservation.
Ratings for alternate listings (with a tour versus without) were aggregated to understand impact of virtual tours on interest in the featured business.
Google Street View Trusted Virtual Tours start at just £195
Get A Street View Tour
Our Google Street View virtual Tour packages start at just £195 which includes up to 5 panorama points. Additional panoramas are available on request.