Rightmove is currently the number one property website with over 127 million monthly views. However, are agents and vendors fully utilizing their listings?
From a slap of paint and a new throw to a Feng Shui consultant. Selling your home is a magical mix of presentation and location. All too often property listings on Rightmove aren't optimised to their full potential. Common issues include misplaced Google maps pins and underutilised listing features such as video content and virtual tours. Additionally outdated or incorrect local information can also harm a potential buyers perception.
Spent the time presenting your property for sale? Here are our top tips to make sure your property listing ticks all the right boxes for more potential buyers.
Rightmove – Video/ Virtual Tour Tab
Rightmove added the video/ virtual tour tab some time ago, but the majority of estate agents still provide 'virtual viewings'.  These 'virtual viewings' are templated videos made up of stock footage and photos of the property. Why settle for a rehashed version of your property's photos when you can have a full 360-degree video. Consequently, a 360 video allows potential buyers to look around whilst travelling through the property.
Here is an example of the property 360 videos we produce here at StreetVisit. Please note that on mobile devices users need to view the video in the YouTube app. 360 videos currently doesn't work within browsers in mobile and displays as a rectilinear video.
As well as video, the Rightmove Video tour tab can also link to a fully interactive virtual tour. For example, in this property listing, we created for a property in Stanford Avenue, Brighton.
A virtual tour contains much higher quality imagery than a 360 video. Potential buyers can also look around at their own pace vs the fixed pace and direction of 360 videos. With features such as floor plans, video content and hotspots it provides a more interactive experience. Consequently it's easier to highlight key property features to potential buyers.
Filtering results
Just as location,  property photos, description and key features allow potential buyers to filter the results presented to them. Similarly, a virtual tour helps filter your real-world viewings to buyers who are genuinely more interested in your property. Although this might mean fewer visitors through the door it also means there is less disruption to you. Most importantly you spend less time preparing your home for viewings that are less likely to convert to an offer or a sale. At the time of writing we are still amid a global pandemic, with social distancing set to be in place in some shape or form for the foreseeable future, so increasing the quality of viewings is even more important.
Rightmove – Google Maps/ Streetview
Google Street View is a fantastic tool for exploring the area around any listing. However, it can be frustrating not being able to find the property if there is no Street View coverage or Google Map pins are incorrectly positioned.
Incorrect Map Marker = Incorrect Street View
In the example below the agent hasn't added the map marker correctly and the corresponding Street view imagery is therefore of a different location. This is something you should contact your agent about to ensure they update your Google location to accurately reflect your properties location.
Correctly placed marker – not optimized
In the example below, the same property but with a different agent, the Google Maps pin is in the correct location but Street View imagery isn't. The reason this has happened is that Street View defaults to the closest captured point to the placed map pin, in this case, the side street entrance to the property.
If the marker was moved closer towards the front part of the property, the displayed Street View imagery would update to a more desirable location such as this…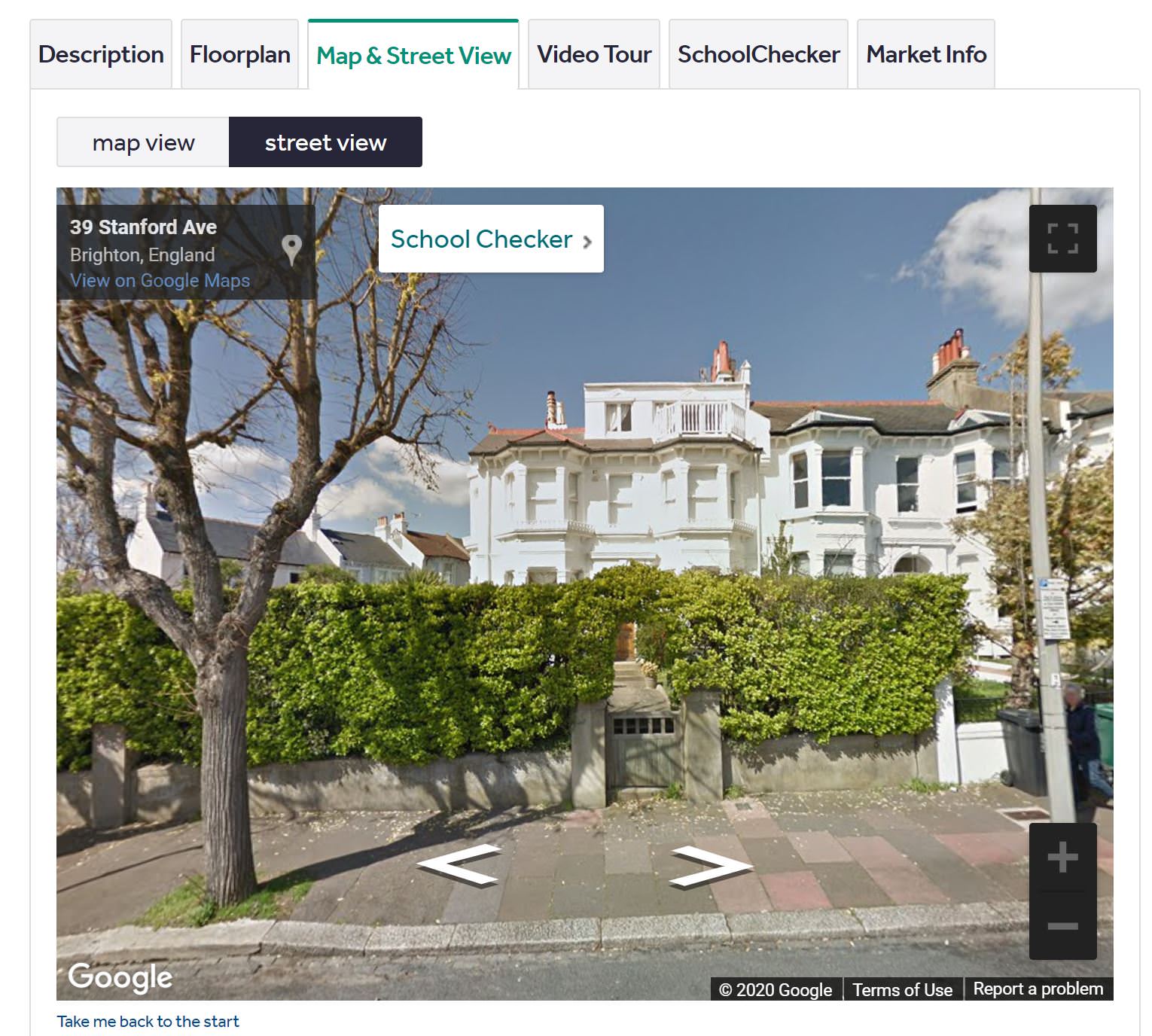 If your property, street or location doesn't have Google Street View Imagery we can help. As a Google Trusted Photographer it's now possible for us to add Google Street View imagery or to update it if out of date. This is the perfect solution for out of date imagery or new build properties where there is no previous imagery.